ALD Principle
ALD (Atomic Layer Deposition)
ALD (Atomic Layer Deposition) proposed by T.Suntola, Finland in 1974.
ALD Reaction Model: Deposit film AB by alternate supply of reactant Ax and By

Dep.Oxide Film
a) Supply Precursor: Reaction between reactant Ax and Substate (Self-Limited)
b) Purge: Purge excessive Ax by inert gas
c) Supply Oxidant: Reaction of oxidant By with Ax.
d) Purge: Purge excessive By and by-product xy.
a)-d); Complete 1 cycle of ALD Process for 1 atomic layer of AB
Superior Step Coverage
By the self-limiting function of surface reaction on a wafer, AFALD ensures superior step coverage.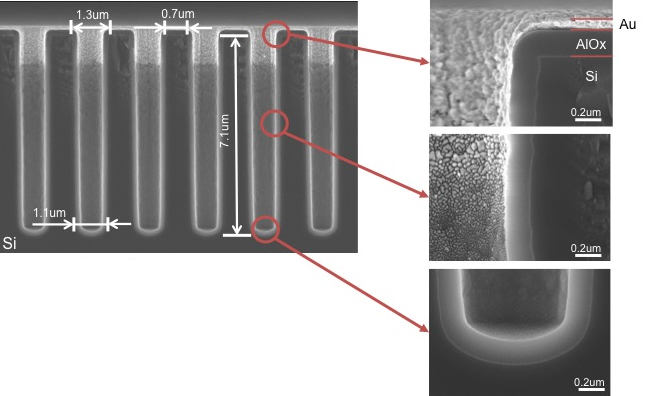 ▲ Cross-sectional SEM image ※Au film on ALD-Al2O3 thin-film surface
Thickness can be controlled at the atomic level by the number of ALD cycles.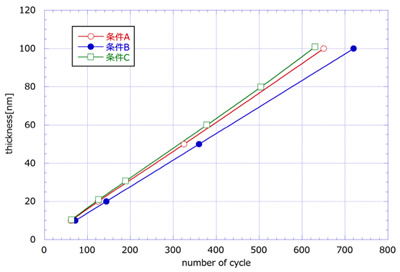 ▲ Relation Between the Number of ALD Cycles and Film Thickness ※Data obtained on MPAD-40s
Excellent electrical properties
By using plasma enhancement, high break down voltage and low leak current property can be achieved even at lower temperature
Superior water vapor barrier property
In comparison with CVD, etc., a thinner film can achieve the equivalent water vapor barrier property.